Sing Happy Birthday To Your Favorite Horse
by: BonnieBlueFlag
Happy Birthday to you,
Happy Birthday to you,
Happy Birthday, dear Horsey,
Happy Birthday to you.
Today horses everywhere will be wearing party hats, and eating carrot cakes that say "Happy Birthday."
New Year's Day is the official birth date of all horses living in the Northern Hemisphere. Any colt or filly that was born from January to December of 2005, will turn one year old today, January 1, 2006, and all the others will add one year to their age of record.
This age arrangement was done quite some time ago for the convenience of the breeders, and for record keeping with registered horses, such as Thoroughbreds, Quarter Horses, and Paints.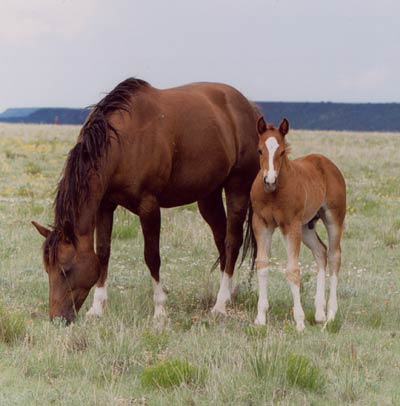 The natural breeding season for mares is from March to October, with a pregnancy that lasts for approximately 11 months.
However, with new veterinary techniques, the normal breeding season can be extended, and the ideal January birth of a potential racing colt is possible.
So when you place your bet on one of the "Three Year Olds" in the next Kentucky Derby, remember that they may not all be at the same stage of development, even though they are all considered to be three years old.